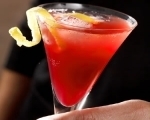 Prep: –
Cook Time: 8 hr
Total: 8 hr
Serving: Makes 6
Jiggly jelly cocktails -- also known as solid cocktails -- are a fun addition to any get-together. Going beyond the JELL-O shots of your college days, this wild hibiscus Champagne jelly cocktail is delicious, elegant and worthy of nibbling.
Solid cocktails may be served as an impressively unique after-dinner dessert, or arranged on the bar or appetizer buffet at your next cocktail party.
Ingredients
1-2/3 cups Champagne or sparkling wine
1 jar wild hibiscus flowers in syrup
1/2 cup water
5 gelatin leaves or 3 teaspoons gelatin powder
Whipped cream, dark chocolate curls and maraschino cherries for garnishing
Directions
Add the Champagne, or sparkling wine, to a mixing bowl. Pour 1/2 cup of the hibiscus syrup (no flowers) into the wine.
In a small saucepan, over low heat, warm the water and dissolve the gelatin. Do not boil. Pour the water mixture into the wine through a sieve and stir.
Place one wild hibiscus flower into each of the six Champagne flutes or fancy glasses. Pour the jelly mixture into the glasses until they are 2/3 full.
Refrigerate overnight to set. When ready to serve, top each cocktail with a small swirl of whipped cream, a few dark chocolate curls and a maraschino cherry.