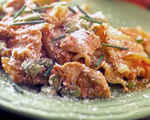 Prep: 10 min
Cook Time: 12 min
Total: 22 min
Serving: 4 Servings
A great way to get more fiber-rich beans into your diet while still enjoying a classic chicken and pasta meal, serve this dish with a bottle of American Zinfandel or an Australian Chardonnay.
Ingredients
8 ounces dried wide egg noodles
1 10-ounce package frozen baby lima beans
1 14-1/2-ounce can Italian-style stewed tomatoes, pureed
6 ounces skinless, boneless chicken breast halves, cut into pieces
1 small onion, cut into wedges
1/4 teaspoon coarsely ground pepper
1 tablespoon olive oil
1/4 cup chicken broth
1/4 cup whipping cream
Finely shredded Parmesan cheese to garnish
Directions
Place the noodles and the lima beans in a pot and cook according to the noodle package directions, drain and place back into the pot.
In the meantime, place the oil in a large sauté pan over medium-high heat. Once it begins to shimmer, add the chicken, onion, and pepper and sauté for 3 minutes.
Reduce the heat to medium and stir in the pureed tomatoes and the broth. Simmer the mixture for 6 minutes and then whisk in the cream. Cook the mixture for an additional 3 minutes and then pour over the pasta and bean mixture. Toss to coat and then serve immediately topped with shredded Parmesan cheese to garnish.