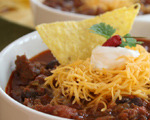 Prep: 10 min
Cook Time: 15 min
Total: 25 min
Serving: 8 servings
This chili is not for the faint of heart. To take the level of heat down a few notches, top with a dollop of sour cream of Greek yogurt.
Ingredients
2 pounds ground beef
1 tablespoon olive oil
1 large onion, chopped
1 green pepper, seeded and chopped
2 cloves garlic, minced
2 Serrano peppers, minced
2 Jalapeno peppers, seeds removed, minced
1 Anaheim pepper, seeds removed, minced
2 tablespoons brown sugar
2 tablespoons chili powder
2 tablespoons cumin
1 tablespoon oregano
2 tablespoons paprika
2 tablespoons Cajun seasoning
1 1/2 teaspoons black pepper
1 (15-ounce) can black beans, rinsed and drained
1 (15-ounce) can hot chili beans
2 (28-ounce) cans of diced tomatoes with juice
Shredded cheddar cheese, tortilla chips and yogurt to garnish
Directions
Place the olive oil into a large soup pot over medium heat. Once it begins to shimmer, add the onion and the green pepper and cook for 4 minutes. Stir in the garlic, serrano peppers, jalapeno peppers and Anaheim peppers and sauté the mixture for an additional 2 minutes before adding the beef and cooking until no longer pink.
Sprinkle in the brown sugar, chili powder, ground cumin, oregano, paprika, Cajun seasoning and black pepper, and mix well to combine. Stir in the beans and tomatoes and then cook until the mixture is simmering. Ladle into bowls, garnish as desired and serve immediately.