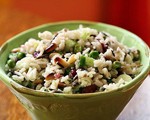 Prep: 25 min
Cook Time: 15 min
Total: 40 min
Serving: Serves 4
An easy-to-make healthy salad that helps you get more grains into your daily meals, tastefully.
Ingredients
1-1/2 cups wholegrain (brown) rice
2 sticks of celery, diced
1 apple, diced
1/2 cup of cashew nuts
8 large button mushrooms, sliced
a handful of parsley, coarsely chopped
2 tablespoons cider vinegar
dash of soy sauce
3-1/2 tablespoons olive oil
Directions
Cook rice according to directions on package; set aside to cool. Meanwhile, wash and prepare vegetables.
In a small sauté pan over medium heat, lightly toast cashews for about 4 minutes or until fragrant.
In a small bowl, whisk cider vinegar with the soy sauce. Slowly pour in olive oil and continue whisking.
Place rice, cashews and all other ingredients into a large salad bowl. Pour dressing over salad and toss to coat.