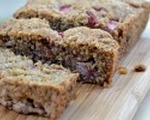 Prep: 10 min
Cook Time: 35 min
Total: 45 min
Serving: Serves about 6
With the summer months upon us, it's hard not to indulge in some of the season's freshest produce, like strawberries! Enjoy these plump, juicy berries in a new way with this delicious and healthy whole wheat strawberry bread! It's amazing and perfect for breakfasts on the go!
Ingredients
1 cup fresh strawberries, finely chopped
1 cup whole wheat flour
2/3 cup all-purpose flour
1/2 cup brown sugar
1/3 cup white sugar
1 teaspoon cinnamon
Dash of salt
1/2 teaspoon baking soda
1/2 cup canola oil
1/4 cup unsweetened applesauce
2 eggs
Directions
Preheat oven to 350 degress F. Grease a loaf pan with nonstick cooking spray and set aside.
Mix flours, sugars, cinnamon, salt and baking soda together in a large mixing bowl with a wooden spoon. In another bowl, beat eggs with oil and applesauce. Slowly pour the wet mixture into the dry mixture and mix until fully combined. Gently fold in strawberries.
Pour batter into the prepared loaf pan and bake for 35 - 40 minutes, or until a toothpick inserted comes out clean.