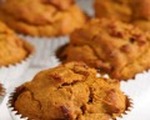 Prep: 10 min
Cook Time: 20 min
Total: 30 min
Serving: Makes one dozen muffins
This reduced-fat recipe for Whole Wheat Pumpkin Muffins is good if you're counting fat & calories. Tasty any time of year!
Ingredients
Non-stick cooking spray
1 cup all-purpose flour
3/4 cup whole wheat flour
3 tablespoons sugar
2 teaspoons baking powder
1 teaspoon pumpkin pie spice
1/4 teaspoon baking soda
1/8 teaspoon salt
1 egg, beaten
3/4 cup skim milk
2 tablespoons butter, melted
1/2 cup canned pumpkin pie filling
Directions
Preheat your oven to 357 degrees F. Spray a muffin tin (for large muffins) with the non-stick cooking spray and set aside.
Use a large mixing bowl to combine the all-purpose flour, the whole wheat flour, sugar, baking powder, pumpkin pie spice, baking soda and salt. Make a well in the middle of the mixture. In a separate bowl, mix the egg, milk and butter. Stir in the pumpkin pie filling. Add this wet mixture to the dry mixture and stir everything together until it's lumpy and moist.
Spoon the muffin batter into the muffin cups until they're about 2/3 of the way full. Bake for 18-20 minutes (until a toothpick stuck in the center of a muffin comes out clean). Cool for several minutes in the tin, on a rack, then remove from tin.