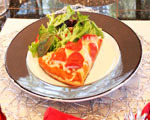 Prep: –
Cook Time: 12 min
Total: 12 min
Serving: 8 people
Make your pepperoni pizza a bit healthier with this whole wheat pepperoni pizza recipe.
Ingredients
1 lb. frozen whole wheat pizza dough, thawed
1 cup canned pumpkin
1/2 cup canned no-salt-added tomato sauce
1/2 tsp. garlic powder
1 cup KRAFT Shredded Low-Moisture Part-Skim Mozzarella Cheese
1/2 cup KRAFT Grated Parmesan Cheese
2 oz. sliced turkey pepperoni
Directions
Heat oven to 450ºF.
Place oven rack in lowest position.
Spray large baking sheet with cooking spray.
Roll out pizza dough on lightly floured surface to fit baking sheet; transfer to baking sheet.
Bake 8 to 10 min. or until crust is puffed.
Meanwhile, mix pumpkin, tomato sauce and garlic powder until well blended.
Spread crust with pumpkin mixture; top with cheeses and pepperoni.
Bake 12 min. or until edge of crust is crisp and mozzarella is melted.
Nutrition Information Per Serving: 240 calories, 7g total fat, 3.5g saturated fat, 25mg cholesterol, 610mg sodium, 29g carbohydrate, 4g dietary fiber, 5g sugars, 14g protein, 100%DV vitamin A, 6%DV vitamin C, 25%DV calcium, 4%DV iron. Exchange: 2 Starch, 1 Meat (L), 1/2 Fat Dietary Exchanges (or Exchange Calculations) based on Choose Your Foods: Exchange Lists for Diabetes © 2008 by the American Diabetes Association and the American Dietetic Association.