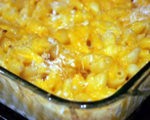 Prep: 10 min
Cook Time: 30 min
Total: 40 min
Serving: 8
Use your boiling skills to prepare the macaroni, mix in the additional ingredients and prepare for a cheesy bowl of taste and comfort. Nutty whole wheat macaroni coated with reduced-fat cheese is given crunch and color with red and orange bell peppers
Ingredients
2 cups uncooked whole wheat elbow macaroni
1 tablespoon butter
1 (5 ounce) onion, finely chopped (about 1 cup)
2 garlic cloves, minced
1 teaspoon paprika
1 teaspoon chili powder
½ teaspoon black pepper
Pinch of salt
1 (6 ounce) red bell pepper, seeded, finely chopped (about 1 cup)
1 (6 ounce) orange bell pepper, seeded, finely chopped (about 1 cup)
1 ½ cups lowfat 1% milk
¼ cup grated Parmesan cheese
1 cup shredded reduced-fat cheddar cheese or cheese of your choice
½ cup light sour cream or plain yogurt
Directions
Pour macaroni into a large pot of boiling water and cook until al dente, or firm tender, about 8 minutes.
Drain with a colander and set aside.
In a large saucepan, combine butter, onion and garlic and cook over medium-low heat, stirring frequently until onion is soft, about 5 to 6 minutes.
Add macaroni and reduce heat to low.
Mix in paprika, black pepper, salt and bell peppers. Gradually add milk stirring constantly until warm and slightly thickened, about 10 minutes.
Stir in cheeses and sour cream, removing from heat when cheese is melted.
Stir for another minute and serve immediately.