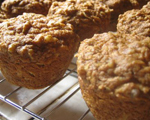 Prep: 25 min
Cook Time: 20 min
Total: 45 min
Serving: Makes 12 muffins
These moist whole wheat apple muffins made with flax seed are both healthy and delicious; a perfect snack for children, served with a cold glass of milk.
Ingredients
1/4 cup flax seed
3/4 cup whole wheat flour
3/4 cup white flour
1/2 cup sugar
2 teaspoons baking powder
1/2 teaspoon baking soda
1/2 teaspoon salt
1 egg, beaten
1-1/2 cups finely chopped apples
3 tablespoons vegetable oil
1/2 cup milk
1/2 cup chopped nuts
Directions
Preheat the oven to 400 degrees and grease a muffin tin with oil or cooking spray.
Mix all the dry ingredients together in a large bowl.
In another large bowl, mix together the egg, oil and milk with a whisk until combined.
Add the dry mixture to the egg mixture, stirring until just blended and then gently fold in the apples and the nuts.
Spoon the batter into the prepared tin, filling each muffin cup 2/3 full. Place in oven and bake for 18-20 minutes or until the center of the muffins spring back when lightly touched.