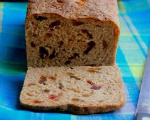 Prep: 15 min
Cook Time: 1 hr
Total: 1 hr 15 min
Serving: 1 loaf
Ingredients
1 1/2 cups dates, pitted and sliced
1 1/2 cups boiling water
1/4 cup shortening
1 cup brown sugar, firmly packed
1 egg
2 cups sifted flour
1 teaspoon salt
1 teaspoon baking soda
1 teaspoon baking powder
1 cup whole wheat flour
1/2 cup chopped walnuts
Directions
Preheat the oven to 350 degrees Fahrenheit. Grease a loaf pan.
In a small bowl, pour the boiling water over the dates. Allow to cool.
Cream together the shortening and sugar. Add egg and beat until fluffy.
Sift the flour, salt, baking soda and baking powder together. Mix in the whole wheat flour and the nuts.
Mix together the date mixture and the sugar mixture. Add in the flour mixture, a quarter at a time, until incorporated, do not overmix.
Bake for 50-60 minutes until done.