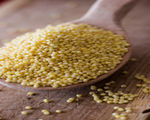 Prep: 25 min
Cook Time: 40 min
Total: 1 hr 5 min
Serving: 6
Young spears of asparagus add color and crunch to toasty whole wheat couscous and meaty tofu chunks. This is a welcome side dish for a potluck or a relaxing supper al fresco. If you aren't a fan of tofu, this recipe may change your mind or substitute your preferred protein, such as turkey, lean beef or fish.
Ingredients
1 pound extra firm tofu, drained
2 teaspoons olive oil
2 tablespoons tamari sauce
1 cup dried whole wheat couscous
1 ¾ cups chicken broth (or water)
1 pound thin asparagus spears, trimmed, cut into 2 inch pieces
¼ cup finely chopped fresh parsley, chopped
¼ cup fresh basil leaves, rolled up, thinly sliced
Directions
Place tofu on several layers of paper towels on a cutting board or large plate and put in sink.
Cover with more paper towels and place a heavy cutting board or plate on top to press out liquid, about 20 minutes.
Meanwhile, pour couscous into a large saucepan and toast over medium-high heat, stirring or shaking pan constantly until fragrant and lightly browned, about 4 to 5 minutes.
Be sure to keep grains moving to avoid scorching. Remove saucepan from heat and pour in chicken broth. Place saucepan back on burner and bring to a boil. Immediately cover and remove saucepan from burner. Let stand for 5 to 10 minutes.
Blanch the asparagus in a large pot of boiling water, about 3 to 4 minutes or microwave on HIGH in a partially covered microwave-safe container with 2 tablespoons of water for 2 to 3 minutes.
Dunk cooked asparagus in a bowl of ice water to halt cooking and set color.
Drain and set aside.
Cut tofu into ½ inch cubes.
Heat oil and tamari in a medium-sized skillet over medium heat.
Add tofu cubes and cook, stirring often to brown all sides, about 4 to 5 minutes.
Remove from heat and set aside.
Fluff couscous with a fork and toss with tofu, asparagus, parsley, and basil.
Season with a little salt and black pepper to taste. Serve warm or at room temperature.