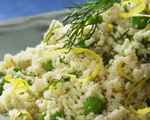 Prep: 10 min
Cook Time: 10 min
Total: 20 min
Serving: 6 Servings
Try whole wheat couscous, instead of the traditional version, for added nutrients and a slightly nuttier flavor.
Ingredients
1 14-ounce can reduced-sodium chicken broth or vegetable broth
1/4 cup water
2 teaspoons extra-virgin olive oil
1 cup whole-wheat couscous
1-1/2 cups frozen peas
2 tablespoons chopped fresh dill
1 teaspoon freshly grated lemon zest
Salt & freshly ground pepper to taste
1/2 cup freshly grated Parmesan cheese
Directions
Place the broth, water and oil into a large saucepan and bring to a boil over high heat. Add the couscous, remove from the heat, cover and let sit for 5 minutes.
In the meantime, cook the peas according to package directions.
Fluff the couscous with a fork and transfer to a bowl. Add the peas, dill, lemon zest and a few sprinkles of salt and pepper and gently toss to combine. Serve topped with the Parmesan cheese.