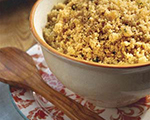 Prep: 10 min
Cook Time: 5 min
Total: 15 min
Serving: 4 Servings
This simple yet delicious side dish, made with couscous and herbs, can be made in minutes.
Ingredients
1-1/4 cups vegetable broth
1 tablespoon butter
1/2 teaspoon hot sauce
1/4 teaspoon salt
1-1/2 cups whole-wheat couscous
1 tablespoon chopped fresh parsley
Freshly ground pepper to taste
Directions
Pour the broth in a small saucepan and then add the butter, hot sauce and salt.
Cover the mixture and bring to a boil.
Once boiling, remove the pan from the heat, add the couscous, and let stand, covered, for 5 minutes.
Uncover the pan and use a fork to fluff up the couscous. Sprinkle in the parsley, some salt and pepper, and serve.