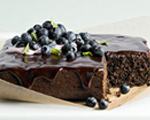 Prep: 20 min
Cook Time: 31 min
Total: 51 min
Serving: Makes 1 8x8x2-inch cake
Using whole wheat flour makes this cake more nutritious than if it were made with classic white flour.
Ingredients
1 cup whole wheat flour
1 cup sugar
6 tablespoon unsweetened cocoa powder
3/4 teaspoon baking powder
1/2 teaspoon baking soda
1/4 teaspoon salt
3/4 cup water
1/2 cup fresh blueberries
1 egg
1 cup frozen light whipped dessert topping, thawed v
1/2 cup semisweet chocolate pieces
Fresh blueberries and whipped cream to garnish
Directions
Preheat your oven to 350 degrees and grease an 8x8x2-inch baking pan.
Place the flour, sugar, cocoa powder, baking powder, baking soda, and salt into a large bowl and whisk together to combine.
Put the water, blueberries, and the egg into a blender and blend on high until mixture is smooth, then pour into the flour mixture and stir until blended.
Transfer the batter into the prepared pan and place in the oven for 30 minutes, or until a toothpick inserted into the center of the cake tests clean.
Remove the cake from the oven, cool on rack and then invert onto a plate.
Place the dessert topping and the chocolate into a microwave-safe bowl and cook for 1 minute. Remove and stir until the mixture in smooth, then drizzle over the cooled cake.
Serve the cake topped with a dollop of fresh whipped cream and the fresh blueberries.