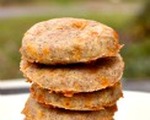 Prep: 45 min
Cook Time: 10 min
Total: 55 min
Serving: 4-6 People
These zesty, Mexican-inspired crackers are perfect served with queso dip, salsa or even on their own! The kick from the jalapeno, the sharpness of the cheddar and the use of whole grain crackers make this one seriously spicy and healthy snack!
Ingredients
1-1/2 cups whole wheat flour
2 cups sharp cheddar
4 tablespoons chilled butter
1/4 teaspoon salt
1 teaspoon jalapeno powder
1 teaspoon baking powder
Directions
In a bowl, combine flour, salt, baking powder and jalapeno powder.
Cut the butter into the dry ingredients until it forms small kernels. Add cheddar cheese and combine until well blended.
Refrigerate dough for at least 30 minutes. Shape each ball into a thin cracker and bake at 400 degrees F for ten minutes.
When golden brown, remove from the oven and allow to cool.