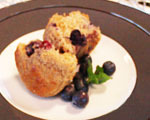 Prep: 10 min
Cook Time: 25 min
Total: 35 min
Serving: 12 people
Whole wheat blueberry muffins are a healthier version of the classic.
Ingredients
1 cup whole wheat flour
3/4 cup all-purpose flour
1/2 cup packed brown sugar
1 Tbsp. plus 1 tsp. CALUMET Baking Powder
1/2 tsp. ground allspice
1/2 tsp. ground cinnamon
1 egg
1 cup low-fat buttermilk
1 Tbsp. unsweetened applesauce
1 cup fresh or frozen blueberries
Directions
Heat oven to 400ºF.
Combine first 6 ingredients in large bowl.
Whisk egg, buttermilk and applesauce in medium bowl until well blended.
Add to flour mixture; stir just until blended. (Do not overmix.)
Gently stir in berries.
Spoon into 12 muffin cups sprayed with cooking spray.
Bake 20 to 25 min. or until golden brown.
Cool in pan 10 min.; remove to wire rack. Cool completely.
If using frozen blueberries, toss the unthawed blueberries with 2 Tbsp. flour before adding to batter to help prevent the color from bleeding into batter while muffins bake.
Nutrition Information Per Serving: 120 calories, 1g total fat, 0g saturated fat, 0g polyunsaturated fat, 0g monounsaturated fat, 0g trans fat, 20mg cholesterol, 190mg sodium, 25g carbohydrate, 2g dietary fiber, 11g sugars, 3g protein, 0%DV vitamin A, 0%DV vitamin C, 15%DV calcium, 6%DV iron. Exchange: 1-1/2 Starch Dietary Exchanges (or Exchange Calculations) based on Choose Your Foods: Exchange Lists for Diabetes © 2008 by the American Diabetes Association and the American Dietetic Association.