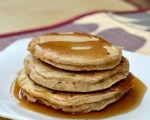 Prep: 5 min
Cook Time: 10 min
Total: 15 min
Serving: 4 People
Like Jack Johnson's song... banana pancakes remind you of the weekend. Of those lazy Saturday mornings when you can drink your coffee in bed while the handsome man in your life whips you up a batch of banana pancakes from scratch. Although the handsome man part may not be a reality for us all, these pancakes certainly can be! Made with whole wheat flour and just a dab of fat, these are also super healthy for you and contain just 2 grams of fat per serving!
Ingredients
2 cups whole wheat flour
2 teaspoons cinnamon
4 tablespoons brown sugar
4 teaspoons baking powder
2 eggs
Dash of salt
3 cups skim milk
2 large ripe bananas
1 tablespoon butter
Directions
Mash the banana and place in a small bowl. Sift the flour, cinnamon, brown sugar and baking powder together in a large mixing bowl.
In another bowl, whisk the egg and milk together. Slowly mix the wet ingredients into the dry ingredients, mixing well. Fold in the mashed bananas.
In a nonstick pan, heat the butter over medium-high heat. Measure out about 1/4 cup of batter and pour into the pan. Once the batter starts to bubble, flip with a nonstick spatula and cook until pancakes are golden brown.
Serve with syrup and enjoy!