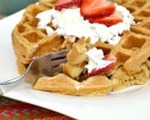 Prep: 10 min
Cook Time: 10 min
Total: 20 min
Serving: Serves about 2
Waffles are one of the easiest breakfast to whip up when you don't have a lot of time or have really picky eaters. This whole grain recipe, made with a dash of cinnamon for spice and flavor, is a great way to trick your kids into eating more whole grains! Plus, it pairs beautifully with fresh fruit and whipped cream!
Ingredients
1 cup all-purpose flour
1 cup whole wheat flour
1 teaspoon baking soda
2 teaspoons baking powder
Dash of salt
1/2 teaspoon vanilla
1 tablespoon cinnamon
2 eggs, separated
1 cup light cream
1 cup skim milk
6 tablespoons butter
Directions
Preheat your waffle maker. Spray with cooking spray.
Mix flours, baking soda, baking powder, salt and cinnamon together. In another small bowl, combine egg yolks, vanilla, milk, cream and butter. Stir until fully combined. Pour into the flour mixture and stir well.
In a small bowl, whip egg whites until a peak forms, about 3 - 5 minutes. Fold into the batter. Pour about 1/2 - 3/4 cup of batter into the waffle maker and cook until browned on both sides, at least 3 - 5 minutes.
Garnish with whipped cream and fruit and enjoy!