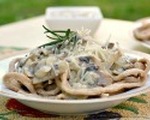 Prep: 8 min
Cook Time: 5 min
Total: 13 min
Serving: 2 People
You'll find few things that go together as well as wine and pasta. Although most people just enjoy their favorite linguine or spaghetti with a glass of wine, this recipe pairs the ingredients in an entirely new way, fusing them together during the cooking process! This white wine reduction is made by cooking the wine with the mushrooms. The alcohol content cooks out and you're left with the oaky sweetness of the wine, which complements the earthy flavor of the mushrooms. Serve this thick, almost cream-like sauce with some homemade pasta for an incredibly delicious meal (that is also completely vegetarian!).
Ingredients
8 ounces pasta (homemade or dried)
2 tablespoons butter
8 ounces shitake mushrooms, sliced
1 medium onion, chopped
3/4 cup dry white wine (like Chardonnay)
3/4 cup low-sodium chicken stock
1 tablespoon flour
Salt and pepper
2 tablespoons Parmesan cheese
Directions
Prepare the pasta according to package directions (or according to directions from homemade pasta recipe). Rinse and set aside.
To begin the sauce, heat butter in a large nonstick pan. Add onions and mushrooms and cook until mushrooms are soft, about eight minutes.
Add wine and cook until evaporated. Add in chicken stock and cook until mixture has reduced down by about a third.
Next, add in flour and mix, heating just until mixture thickens, about another two minutes.
Pour sauce over the pasta. Add Parmesan and enjoy!