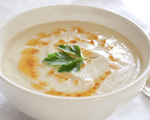 Prep: 10 min
Cook Time: 40 min
Total: 50 min
Serving: Serves 4
This lima bean and roasted cauliflower, onion and garlic soup tastes as gorgeous as it looks. Garnish with a drizzle of extra virgin olive oil and a dusting of smoked paprika prior to serving.
Ingredients
1 head cauliflower, cut into florets
2 medium onions, sliced into chunks
1 head garlic (about 6-8 cloves), peeled
2 cans cooked lima beans
2 cups water
2 cups vegetable stock
juice of 1 lemon
sea salt to taste
3-1/2 tablespoons olive oil plus some to garnish
smoked paprika
Directions
Preheat your oven to 400 degrees.
Place the cauliflower florets, onions and garlic in a large bowl, drizzle with the olive oil, sprinkle with some salt and toss to coat. Transfer the mixture to a baking sheet and place in the oven for 35 minutes until caramelized.
Once the vegetables have cooled slightly, place in a food processor along with the beans, water, stock and lemon juice. Process the mixture until smooth and then transfer to a soup pan. Cook the mixture over medium heat until just heated through and then serve with a drizzle of olive oil and a sprinkle of paprika.