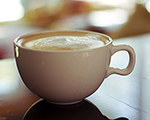 Prep: 20 min
Cook Time: 10 min
Total: 30 min
Serving: 3 Servings
This delightful drink is made with creamy milk, cinnamon, cardamom, honey and rum.
Ingredients
3 cups whole milk
1 cup whole coffee beans, lightly cracked
1-1/2 sticks cinnamon sticks
4 whole green cardamom pods
1/4 cups honey
2 tablespoons dark rum
Directions
Pour the milk into a saucepan and place over medium-high heat. Add the coffee beans and cook for 6 minutes, and then remove pan from heat and let the mixture sit for 15 minutes.
Using a sieve, strain the mixture and place into a blender along with the cinnamon sticks, cardamom, and honey. Blend on high for 1 minute.
Using the sieve again, strain the mixture back into the saucepan and heat over medium-high heat until the mixture is hot.
Stir in the rum and pour into mugs. Serve immediately.