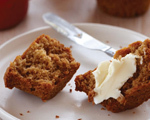 Prep: 10 min
Cook Time: 18 min
Total: 28 min
Serving: Makes 12 muffins
This honey and oat muffin recipe was created by White House chef Spike Mendelsohn. These lightly sweet treats are wonderful served with a mug of hot coffee or steaming apple cider.
Ingredients
3/4 cup old-fashioned rolled oats
3/4 cup whole-wheat flour
3/4 cup all-purpose flour
2 teaspoons baking powder
1-1/2 teaspoons baking soda
1/2 teaspoon ground cinnamon
1/2 teaspoon ground coriander
3/4 teaspoon salt
1/2 cup plus 2 tablespoons honey
1/2 cup buttermilk
1/2 cup canola oil
2 large eggs
Directions
Preheat your oven to 375 degrees and grease a 12-cup muffin tin with butter or cooking spray.
Place the oats, whole-wheat flour, all-purpose flour, baking powder, baking soda, cinnamon, coriander and salt into a bowl and mix well to combine.
Put the honey, buttermilk, canola oil and eggs into another bowl, whisk to combine, and then add to the dry ingredients, mixing until flour is just moist.
Transfer the batter to the prepared muffin tin and then place in the oven for 18 minutes, or until a toothpick inserted into the center of a muffin tests clean. Allow the muffins to cool for 5 minutes before removing and serving.