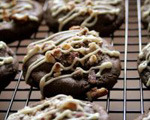 Prep: 20 min
Cook Time: 25 min
Total: 45 min
Serving: 6-8 People
These white chocolate turtle cookies are a simple and delicious dessert to make. They're crunchy, delicate and pop-able, which makes for one sweet reward.
Ingredients
2-1/2 cups flour
3/4 cup unsweetened cocoa powder
1 teaspoon baking soda
1 teaspoon ground cinnamon
1 cup granulated sugar
1 cup brown sugar
1 cup butter, softened
2 teaspoons vanilla extract
2 eggs
1 cup pecans, finely chopped
1 tablespoon granulated sugar
48 Rolo candies, unwrapped
4 ounces vanilla almond bark
Directions
Preheat oven to 375 degrees F.
In a small bowl, mix together flour, cocoa, baking soda and cinnamon. When fully mixed, set aside. In a large bowl, combine butter and sugars until light and fluffy. Add vanilla and mix well. Add eggs one at a time, beating well after each addition. Add flour mixture in three additions, blending well. Stir in 1/2 cup chopped pecans.
In a small bowl, mix remaining 1/2 cup chopped pecans and one tablespoon granulated sugar, whisking lightly.
With a 1-inch scoop, portion out a heaping tablespoon of dough; wrap the dough entirely around one Rolo candy, covering it completely. Dip cookie ball into pecan/sugar mixture on one side.
With the "nut-side" up, place cookies at least 2-inches apart on cookie sheets lined with parchment paper or a silicone baking mat. Bake for eight to nine minutes or until set. Let cookies cool for a few minutes on cookie sheets before moving. Remove to a wire rack and cool completely.
Break vanilla almond bark into pieces and place in a microwave-safe container. Microwave on high for 30 seconds. Check and stir well; continue to cook in 15-second intervals until chocolate is melted and smooth. Drizzle over cooled cookies. Allow 15 minutes for chocolate to harden and serve.