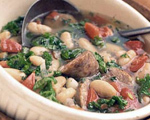 Prep: 10 min
Cook Time: 35 min
Total: 45 min
Serving: 5 Servings
Warm up on a chilly winter's night with this hearty and satisfying white bean soup with Italian sausage and kale. Serve with thick slices of crusty peasant bread and chunks of aged yellow cheese.
Ingredients
12 ounces fresh mild Italian sausage links, sliced 1/2 inch thick
1/4 cup water
1 medium onion, chopped (1/2 cup)
1 teaspoon minced garlic
1 tablespoon olive oil
2 15-ounce cans white kidney (cannellini) beans, rinsed and drained
2 14 ounce cans reduced-sodium chicken broth
1 14-1/2 ounce can diced tomatoes with basil, oregano and garlic, undrained
4 cups coarsely chopped kale
Sea salt and freshly ground pepper
Directions
Place the water and the sausage into a large sauté pan and bring to a boil. Once boiling, reduce the heat to medium-low and simmer the mixture, covered, for 10 minutes. Uncover the pan and cook the sausage for an additional 5 minutes then remove from the pan and set aside.
In the meantime, put the olive oil in a soup pan over medium-high heat. Add the onion and garlic and sauté for 6 minutes, then stir in the beans, broth and tomatoes and bring to a boil. Cover the pan and cook over medium-low heat for 6 minutes.
Add the sausage and kale to the pot and simmer the mixture for 4 minutes. Add a few pinches of salt and pepper to taste and then serve hot.