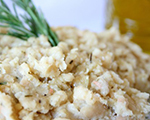 Prep: 10 min
Cook Time: 4 min
Total: 14 min
Serving: 4 Servings
Try this recipe for white bean puree instead of classic mashed potatoes; it's full of fiber and has a naturally creamy taste and texture.
Ingredients
3 large cloves garlic, peeled and cut in half
2 19-ounce cans cannellini beans (white kidney beans), rinsed
2 tablespoons finely chopped fresh parsley
1 tablespoon extra-virgin olive oil
1 teaspoon finely chopped fresh sage
1/4 teaspoon salt
Freshly ground pepper to taste
Directions
Place the garlic in a large saucepan and fill 3/4-full with water. Bring the water to a boil and then add the beans.
Bring the beans to a boil and then drain, reserving 1/2 cup of the water.
Place the garlic and the beans in a food processor along with the parsley, oil, sage and the reserved cooking liquid. Process until thick and creamy, and then season with salt and pepper. Serve immediately.