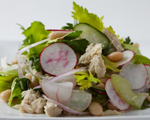 Prep: 15 min
Cook Time: –
Total: 15 min
Serving: 4 Servings
This light Italian-inspired salad is a perfect dish for entertaining. Use imported Italian tuna in oil for the best taste.
Ingredients
1 (15-ounce) can cannellini beans, rinsed well and drained
2 (5-ouce) cans imported tuna in oil, drained and lightly flaked
2 celery ribs, thinly sliced plus 1/2 cup celery leaves from inner heart
1/2 cup very thinly sliced red onion
Juice of 1-1/2 lemons
1/4 cup plus 2 tablespoons extra-virgin olive oil
Coarse sea salt
Mix of coarsely cracked black and white pepper
4 small radishes, very thinly sliced
1/2 small cucumber, very thinly sliced
1/2 cup whole flat-leaf parsley leaves
Directions
Place the beans, tuna, sliced celery and onion in a large bowl and toss to combine.
Pour in the lemon juice, olive oil and a few pinches of salt and pepper, and toss to coat.
Add the radishes and the cucumber to the bowl and toss once again to combine.
Serve the salad garnished with the celery and parsley leaves, and with a side of country bread.