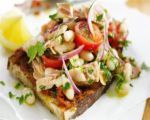 Prep: 10 min
Cook Time: 10 min
Total: 20 min
Serving: 4 People
White bean and shrimp salad is a quick, Mediterranean-style salad that is filling, nutritious and tasty -- great for those evenings when you're home late, but hungry for a fast dinner.
Ingredients
1 (1-pound) bag of frozen, deveined shrimp, thawed
2 garlic cloves, chopped
1 cucumber, peeled, seeded and diced
1 cup cherry tomatoes, halved
2 tablespoons extra virgin olive oil
3 cups cannellini beans, rinsed and drained
1 lemon
6 ounces cubed feta cheese
Salt and pepper to taste
Directions
Toss the thawed shrimp with one tablespoon of the olive oil, half the garlic and salt and pepper to taste.
Using a medium-sized pan over medium heat, add one tablespoon oil and the remaining garlic. Cook for about one minute, stirring constantly. Reduce the heat to low, add the beans and cook, covered, until warmed through.
Meanwhile, in a medium-sized pan, cook the shrimp over medium-high heat until lightly browned and cooked through (about three minutes).
Using a large serving bowl, add the shrimp, beans, lemon juice and zest, tomatoes, cucumber, cheese and salt and pepper to taste. Mix well. Serve on top of mixed greens, or simply on it's own.