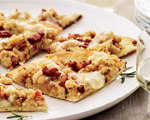 Prep: 10 min
Cook Time: 15 min
Total: 25 min
Serving: 4 Servings
Contrastingly-flavored and textured white buttery beans and crispy pancetta not only taste great together but also make a wonderful topping for this designer pizza. Enjoy this simple meal with a bottle of Chardonnay.
Ingredients
4 ounces pancetta, cut into 1-inch-by-1/4-inch strips
Extra-virgin olive oil
1 large garlic clove, minced
1 teaspoon chopped rosemary
1/4 teaspoon crushed red pepper
2 15-ounce cans cannellini beans, drained and rinsed
Salt
4 pocketless pita or naan
6 ounces thinly sliced Fontina cheese
Directions
Preheat the oven to 450 degrees.
Place the pancetta in a skillet with 2 tablespoons of oil and cook over medium heat until crisp; remove from the pan.
Put the garlic, rosemary and crushed pepper in the pan, stir to combine and cook for 25 seconds. Put the beans into the pan, mash with a large fork and then add the cooked pancetta and a few pinches of salt. Stir the mixture until well combined and then remove from the heat.
Thoroughly brush the pita bread with olive oil and then evenly spread with the pancetta mixture and the shredded cheese. Place the pizzas in the oven for 7 minutes and then remove and serve immediately.