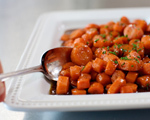 Prep: 10 min
Cook Time: 15 min
Total: 25 min
Serving: 8 servings
This superb glaze, made with butter, whiskey and brown sugar, works wonders on a classic sliced carrot side dish.
Ingredients
1 stick Butter, Divided
2 pounds (to 3 Pounds) Carrots, Peeled And Cut Into Thick Circles
1/2 cup Jack Daniels Or Other Whiskey
3/4 cups (to 1 Cup) Brown Sugar
1/2 teaspoon Salt
Freshly Ground Pepper, to taste
Directions
Place 1 tablespoon of the butter into a large sauté pan over high heat and sauté the carrots (may require cooking in 2 batches) for 1 minute. Remove the carrots and set aside.
Place the whiskey into the pan and after about 30 seconds add the remaining butter. Reduce the heat to medium and then add the brown sugar. Stir the mixture well to combine and then add the carrots back to the pan. Stir to coat and then cover and cook for 5 minutes.
Take the lid off the pan and sprinkle the carrots with some salt and pepper to taste. Cook the carrots for an additional 5 minutes and then remove and serve immediately.