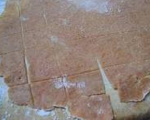 Prep: 10 min
Cook Time: 35 min
Total: 45 min
Serving:
Homemade wheat thin crackers
Ingredients
1 3/4 cup whole wheat flour
1 1/2 cups white flour
1/3 cup salad oil
3/4 teaspoon salt
1 cup water
Directions
Preheat oven to 350 degrees Fahrenheit.
Combine the flours, add in the liquids.
Knead just until smooth, as little as possible. Roll as thin as possible onto a cookie sheet (no more than 1/8 inch thick).
Score with a knife, do not cut through. Sprinkle lightly with salt or onion salt.
Bake for 30-35 minutes, until light brown and crisp. Break into the prescored pieces.