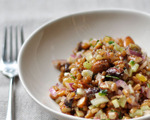 Prep: 1 hr 20 min
Cook Time: 45 min
Total: 2 hr 5 min
Serving: 8 servings
Wheat berries are whole wheat kernels that are packed with valuable nutrition. Their slightly chewy and nutty flavor makes a wonderful base for grain salads.
Ingredients
1-1/2 cups wheat berries
1/4 cup rice vinegar
1/3 cup orange juice
2 tablespoons honey
1/2 cup golden raisins
1/2 cup dried figs, chopped finely
1/2 medium red onion (about 1/3 pound), finely diced
3 large stalks celery, finely diced
1/4 cup good-quality olive oil
1 tablespoon lemon zest, from 2 lemons
1 cup roasted almonds, roughly chopped
Handful fresh parsley or mint, finely chopped
sea salt and freshly-ground black pepper, to taste
Directions
Cook the wheat berries according to package directions, drain and then place in a bowl.
In the meantime, put the rice vinegar, orange juice, and honey into a saucepan and bring to a boil. Once boiling, stir in the raisins and the figs and then cover the pan and set aside for 10 minutes.
Place the cooked wheat berries, onion, celery, olive oil, lemon zesty, fruit mixture, almonds, parsley and a few pinches of salt and pepper into a bowl and toss well to combine.
Cover the salad and set aside for 1 hour at room temperature to allow the flavors to meld.