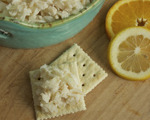 Prep: 3 hr 10 min
Cook Time: –
Total: 3 hr 10 min
Serving: Serves 4-6
Serve this West Indies Crabmeat Salad with a side of salty crackers and a few slices of freshly-cut lemon or lime.
Ingredients
1 pound (16 ounces) fresh lump crabmeat
1 small sweet onion, chopped fine
1/2 cup olive or canola oil
1/2 cup ice cold water
1/3 cup cider vinegar
Sea salt and freshly ground black pepper
Pinch of cayenne pepper
Directions
Cover the bottom of a serving bowl with half of the onion and then top with half on the crabmeat. Add the remaining onion and then top again with the remaining crabmeat.
Place the oil, vinegar, water and a few pinches of salt and pepper into a bowl and whisk vigorously until well blended. Pour the dressing over the crabmeat mixture and the push down with a large spoon or a spatula to better combine the ingredients.
Cover the bowl with some plastic wrap and place in the refrigerator for at least 3 hours to allow the flavors to blend.