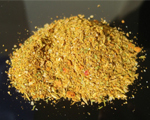 Prep: 10 min
Cook Time: –
Total: 10 min
Serving: Marinade for 4 Servings
This fiery and colorful dry rub is ideal for grilled or even deep-fried fish. You'll need to go to a specialty food store to find the ingredients or search online.
Ingredients
6 Sénégal pepper pods
1 teaspoon cumin seeds
1 teaspoon coriander seeds
2 teaspoons dried piri-piri chillies
5 uzazi peppercorns
1 teaspoon black peppercorns
2 teaspoons dried thyme
2 teaspoons dried oregano
1 teaspoon alligator pepper seeds (or grains of paradise)
1/2 teaspoon salt
1 teaspoon freshly-grated nutmeg
1 spring onion, finely chopped
2 cloves garlic
1 tablespoon parsley
Directions
Place all of dry ingredients into a spice or coffee grinder and grind until mixture has a powder-like consistency.
Add the rest of the ingredients and grind until mixture becomes a paste.
Store marinade in a sealed container in the refrigerator for up to 5 days.