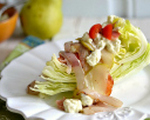 Prep: 15 min
Cook Time: 10 min
Total: 25 min
Serving: Serves about 4 - 6 people
Instead of paying over $10 for a fancy wedge salad at your favorite restaurant, why not make one at home for half that? With this recipe, the crisp of the iceberg lettuce pairs perfectly with the salty crunch of the bacon, the plump and juicy cherry tomatoes and the creamy, decadent Gorgonzola dressing. Plus, did we mention how easy it is? You could whip it up in 30 minutes or less!
Ingredients
1 head of iceberg lettuce, quartered
6 pieces bacon, chopped
1/2 cup cherry tomatoes, cut in half
1/2 medium red onion, sliced
2 cloves garlic, sliced
1/2 pear, sliced
1-1/4 cups Gorgonzola cheese
1/3 cup mayonnaise
1/3 cup sour cream
1 tablespoons lemon juice
Salt and pepper
1 tablespoon butter
Directions
In a medium pan, heat the butter. Add the onions, garlic and pear. Cook until the vegetables are soft, about 4 minutes. Remove from the pan.
Adorn each quartered wedge with sautéed pears, onions and garlic. Add the halved cherry tomatoes.
In a medium bowl, mix together the Gorgonzola, lemon juice, sour cream and mayonnaise until fully combined. Garnish with salt and pepper. If the mixture is really chunky, pulse in a food processor or add a dash of milk.
Pour the dressing over the wedges. Garnish each wedge with crumbled bacon and enjoy!