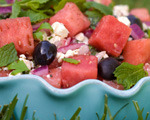 Prep: 45 min
Cook Time: –
Total: 45 min
Serving: 4 people
A fresh and delicious summer salad made with sweet watermelon and sliced red onions!
Ingredients
1 tablespoon green onions, chopped
1/4 cup raspberry vinegar
1/3 cup olive oil
2 medium red onions, thinly sliced
4 ounces feta cheese, crumbled
4 cups mixed salad greens
6 cups watermelon, cubed
dash of salt and pepper
Directions
Whisk together raspberry vinegar, green onions, and olive oil in medium bowl. Add dash of salt and pepper.
Pour raspberry vinaigrette over sliced red onions. Let marinate in refrigerator for 30 minutes.
Arrange mixed greens on salad plates. Add 1 1/2 cups of cubed watermelon to each plate. Crumble feta cheese over mixed greens.
Add marinated red onions to salad plates.
Drizzle with remaining raspberry vinaigrette.