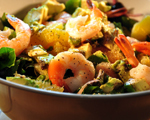 Prep: 25 min
Cook Time: 3 min
Total: 28 min
Serving: 4 Servings
This salad has all of the wonderful elements of summer in a single meal: fresh watercress, sweet corn, juicy tomatoes and honey-drizzled grilled shrimp.
Ingredients
1/4 cup plus 1 tablespoon extra-virgin olive oil
6 ears of corn, kernels cut from the cob (2-1/2 cups)
1 pint grape tomatoes, halved lengthwise
1/2 small red onion, thinly sliced lengthwise
1 tablespoon chopped flat-leaf parsley
1 tablespoon snipped chives
1-1/2 teaspoons coarsely chopped tarragon
2 tablespoons white wine vinegar
Salt and freshly ground pepper
1 pound shelled and deveined large shrimp
1 tablespoon honey
1 pinch red pepper flakes
1/2 teaspoon finely grated lemon zest
1 tablespoon fresh lemon juice
1 bunch watercress, thick stems discarded
Directions
Prepare the grill on medium-high.
In a medium-sized sauté pan, heat the oil over medium-high heat until hot but not smoking. Add the corn and sauté for about 4 minutes; transfer the corn to a serving bowl and allow to cool.
Once corn is cool, add the tomatoes, onion, parsley, chives, tarragon, vinegar, 2 tablespoons of olive oil and salt and pepper to taste. Toss the salad to mix the ingredients.
Place the honey in a bowl and zap in the microwave for a few seconds until warm. Add the 1 tablespoon of oil and the red pepper flakes and mix with a whisk. Add the shrimp and toss to coat.
Place the shrimp on the grill and cook, turning once, for about 3 minutes. Place on a dish and sprinkle with the lemon zest.
In a large bowl, whisk together the last 1 tablespoon of oil with the lemon juice and sprinkle with salt and pepper. Put in the watercress and toss to coat.
On a large serving platter or on individual plates, place the watercress, then the corn, then the tomato salad and lastly the grilled shrimp. Serve immediately.