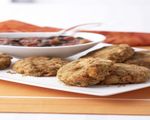 Prep: 10 min
Cook Time: 18 min
Total: 28 min
Serving: 6
Dine on these sharp and savorous crab cakes as a light lunch or dinner or present them as an appetizer for grander meals.
Ingredients
2 teaspoons olive oil, divided
½ cup chopped shallots
½ cup celery, chopped fine
2 garlic cloves, minced
Pinch salt
½ cup reduced-fat mayonnaise
1 tablespoon wasabi paste
¼ cup fine chopped parsley
1 cup whole wheat bread crumbs
1 egg white
1 pound crabmeat, flaked (or imitation crabmeat)
Directions
In a large bowl combine mayonnaise, wasabi paste, parsley, bread crumbs, egg white and crabment.
Heat ½ teaspoon oil in a large nonstick skillet over medium heat and cook onion, celery and garlic, stirring often, until soft, about 5 minutes.
Turn off heat and remove skillet from burner.
Season with salt and transfer onion mixture to a large mixing bowl to cool slightly.
Add mayonnaise, wasabi, parsley, bread crumbs, egg white and crabmeat to onion mixture and combine well.
Form mixture into 6 balls and flatten into cakes, each about 4 inches in diameter.
Cakes can be refrigerated and cooked later, at this point.
Heat 1 ½ teaspoons of oil over medium-high heat in skillet used for onion mixture.
Place crabcakes in skillet and cook until lightly browned on both sides, about 5 to 7 minutes per side.