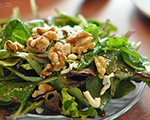 Prep: 10 min
Cook Time: 15 min
Total: 25 min
Serving: 4 Servings
Warm toasted walnuts are mixed with French haricots verts, baby greens and cherry tomatoes to make a healthy and delicious modern salad.
Ingredients
1 shallot, minced
1 tablespoon red-wine vinegar
1 tablespoon Dijon mustard
1/4 teaspoon salt
Freshly ground pepper to taste
2 tablespoons walnut oil
12 ounces haricots verts (green beans), stem ends trimmed
2 tablespoons coarsely chopped walnuts
1-1/2 cups cherry tomatoes, halved
2 tablespoons chopped fresh parsley
6 cups baby greens
Directions
Make the vinaigrette by mixing together the shallot, vinegar, mustard, salt and pepper in a small bowl. Slowly pour in the oil and continue to whisk until well combined.
Place the salad greens, cherry tomatoes and parsley into a large salad bowl.
Steam the haricots verts until tender, about 12 minutes, and then add to the salad bowl.
Meanwhile, using a small skillet, toast the chopped walnuts for about 3 minutes over medium heat, stirring constantly, until fragrant.
Add the walnuts and the dressing to the salad and toss to coat. Serve immediately.