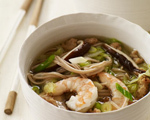 Prep: 10 min
Cook Time: 15 min
Total: 25 min
Serving: 4 Servings
This perfect one-bowl meal, made with soba noodles, lean pork, succulent shrimp and cabbage, can be served for dinner while the leftovers can be enjoyed for lunch the following day.
Ingredients
1/4 cup plus 2 tablespoons low-sodium soy sauce
2 teaspoons dashi powder
12 ounces dried soba noodles
1 tablespoon canola oil
4 ounces lean ground pork
4 ounces shiitake mushrooms, stems discarded and caps thinly sliced
1/2 pound shelled and deveined medium shrimp
1/2 medium head napa cabbage, thinly sliced
2 scallions, thinly sliced
Directions
Place the soy sauce, dashi powder and 6 cups of water in a soup pot over medium heat and bring to a simmer.
In the meantime, cook the soba noodles according to package directions, drain and set aside.
Place the oil in a large sauté pan over high heat. Once it begins to shimmer, add the pork and mushrooms, cover the pan, and cook for 5 minutes. Stir in the shrimp and cook the mixture for 3 minutes then add the cabbage and cook for 1 additional minute.
Transfer the pork mixture to the soup pot with the soy sauce mixture, stir to combine and then cook until heated through. Ladle the soup into bowls and garnish with the scallions prior to serving.