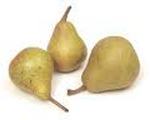 Prep: 45 min
Cook Time: 50 min
Total: 1 hr 35 min
Serving: 6
Warm Pear Dessert is a delicious tart that can be made with apples.
Ingredients
4 1/2 tablespoons butter, unsalted
3/4 cup flour
3/4 cup sugar
1 1/2 teaspoon baking powder
pinch of salt
3/4 cup milk
1 1/4 teaspoon vanilla
1 1/2 cups sliced pears
confectioner's sugar for dusting
Directions
Cut butter in chunks and toss into a 9 inch glass Pyrex pie plate. Place in a 350 degrees F oven for 5 minutes or until butter is melted.
Whisk together dry ingredients in a mixing bowl. Add milk and vanilla and whisk until smooth.
Pour batter over hot butter; top with pear slices. Bake 45 minutes or until top is browned and a toothpick poked in the center comes out clean.
Cool 30 minutes; dust with confectioner's sugar. Serve slightly warm.