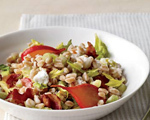 Prep: 10 min
Cook Time: 20 min
Total: 30 min
Serving: 8 servings
Farro is a type of grain that comes from a particular wheat species. It tastes similar to a light brown rice but with a more complex, nutty taste and with undertones of barley and oats.
Ingredients
1 cup farro
2 tablespoons extra-virgin olive oil
3 ounces thinly sliced pancetta
8 radishes, sliced 1/4 inch thick
1/4 cup raspberry vinegar
1 tablespoon honey
Salt and freshly ground pepper
1 tablespoon fresh lemon juice
1 cup diced celery hearts, plus 1/2 cup celery leaves
1/4 cup crumbled goat cheese, 2 ounces
Directions
Cook the farro according to package directions and then place in a large salad bowl.
In the meantime, put the oil in a skillet over medium heat. Once it begins to shimmer, add the pancetta and cook for 5 minutes. Transfer the pancetta to a plate and crumble once cool.
Place the radishes, vinegar and honey into the skillet with the pancetta fat, sprinkle with a few pinches of salt and pepper, and then toss to combine. Cook the mixture over low heat for 10 minutes and then add the lemon juice and stir to combine.
Transfer the radish mixture to the cooked farro, along with the celery hearts, celery leaves, goat cheese and pancetta. Toss to combine and then serve immediately.