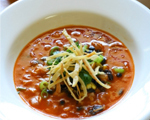 Prep: 30 min
Cook Time: 1 hr 10 min
Total: 1 hr 40 min
Serving: 6 Servings
This dish is great served warm and ladled right out of the pot, and even better the next day as leftovers.
Ingredients
4 cloves garlic, minced
2 large yellow onions, chopped
1/4 cup olive oil
2 cans stewed tomatoes
2 cans Rotel tomatoes
2 cans chicken broth
2 teaspoons Worcestershire sauce
2 cans Cream of Chicken soup
1 can Tomato soup
3 cups water
2 teaspoons ground cumin
2 teaspoons ground chili powder
1 tablespoon black pepper
4 tablespoons fresh cilantro
1-1/2 pounds boiled chicken, shredded
1 small bag tortilla chips, crumbled
1,16-ounce tub sour cream
1, 8-ounce package grated cheddar cheese
3 avocados, cubed
Directions
In a large soup pot, add the olive oil and sauté the onions and the garlic for about 6 minutes over medium-high heat, stirring frequently.
Add the stewed tomatoes, Rotel tomatoes, broth, Worcestershire sauce, canned soup, water, cumin, chili powder, pepper and cilantro and bring to a rolling boil.
Add in the chicken and simmer over medium-low heat for 1 hour.
Ladle the soup into bowls and garnish with a dollop of sour cream, some grated cheese, a few cubes of avocado and a sprinkle of tortilla chips; serve warm.