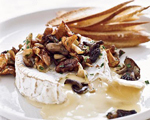 Prep: 15 min
Cook Time: 30 min
Total: 45 min
Serving: Serves 6-8
A gorgeous appetizer for your next dinner party that pairs a warm wheel of ripe Camembert cheese with an assortment of spiced wild mushrooms. Serve with crackers or fresh bread, along with a red wine from Bordeaux or Burgundy.
Ingredients
1/2 cup walnut pieces
1, 8-ounce wheel of ripe Camembert in its wooden box, at room temperature
1 tablespoon walnut oil
3/4 pound wild mushrooms, brushed, trimmed, caps thinly sliced
Salt and freshly ground pepper
1 shallot, minced
2 tablespoons chopped flat-leaf parsley
2 large sage leaves, minced
Directions
Preheat your oven to 350 degrees.
Place the walnuts on a baking sheet and toast for 7 minutes until fragrant and golden brown.
Take the Camembert cheese out of its box and unwrap it. Place the cheese on the bottom of its wooden box and then place in the oven on a baking sheet. Bake the cheese for about 8-10 minutes until cheese becomes very soft.
As the cheese warms, pour the walnut oil into a large sauté pan and cook the mushrooms, covered, over medium heat for about 5 minutes. Uncover and season with salt and pepper and continue to cook for an additional 3 minutes.
Place the shallot into the pan and sauté for 2 minutes. Remove from heat and stir in the parsley, sage, walnuts and sprinkle with additional salt and pepper.
Remove the Camembert from the oven, flip and place onto a serving platter. Spoon over the mushroom mixture and serve immediately.