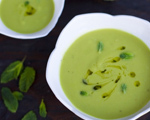 Prep: 40 min
Cook Time: 10 min
Total: 50 min
Serving: 4 Servings
Enjoy this elegant avocado soup for lunch or serve as a starter to your next dinner party. The lime and mint give it a fresh touch while the avocado provides a creamy and rich finish.
Ingredients
4 tablespoons olive oil
1 small onion
2 cloves garlic
1/2 inch fresh ginger, minced
a pinch of dried chili
2 lime, juice
10 mint leaves plus 15 for the mint oil
3 medium size avocados
1 cup water
sea salt and freshly ground pepper
Directions
Place 15 fresh mint leaves into a mortar and pestle and gently bruise to release their natural oils. Stir in 3 tablespoons of olive oil and then set the mixture aside for 30 minutes to allow the flavors to infuse.
Place a tablespoon of olive oil in a sauté pan over medium heat and sauté the onion, garlic, ginger and chili for 5 minutes, stirring frequently.
Place the onion mixture into a food processor, along with the lime juice, 10 mint leaves, avocado water and a few pinches of salt and pepper. Blend the mixture until smooth and then transfer back to the pot and cook until just heated through.
Ladle into bowls, drizzle with some of the infused mint oil and serve immediately.