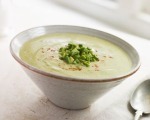 Prep: 10 min
Cook Time: 30 min
Total: 40 min
Serving: Serves 6 people
Warm & Creamy Avocado Soup is an out-of-the-ordinary dish that will pleasantly surprise your family and friends. Serve with grilled vegetables and brown rice for a tasty meal.
Ingredients
3 ripe avocados
2 tablespoons lemon juice
6 tablespoons butter
6 shallots, chopped
1-1/2 tablespoons all-purpose flour
3-3/4 cups vegetable stock
3/4 cup cream
1 lime, thinly sliced
Salt & pepper to taste
Extra virgin olive oil
1-2 limes, sliced in rounds
Directions
Peel the avocado and cut them into small chunks. Add them to a bowl and sprinkle with the lemon juice. Toss well to coat. Set aside.
In a medium-sized saute pan over low heat, melt the butter. Add the shallots and cook, stirring, for about 5 minutes or until soft. Add the flour and cook for about a minute, stirring constantly.
Remove the pan from the heat. Gradually stir in the vegetable stock. Return the pan to medium heat and bring to a boil, stirring constantly. Add the avocados. Turn the heat to low and simmer, covered, for about 15 minutes.
Remove from heat and strain the soup. Return to a clean pan and over low heat, add the cream Add salt and pepper to taste. Heat only until everything is warmed through.
Serve in individual bowls. Garnish with the lime slices and drizzle each bowl lightly with olive oil.