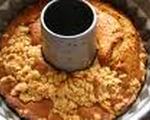 Prep: 30 min
Cook Time: 1 hr 5 min
Total: 1 hr 35 min
Serving: 12
War Cake is a dense cake made without butter or eggs but full of spicy, homey flavors.
Ingredients
2 cups brown sugar
2 cups hot water
2 teaspoons shortening
1/2 cup raisins
1 teaspoon salt
1 teaspoon cinnamon
1 teaspoon cloves
3 cups flour
1 teaspoon baking soda dissolved in 2 teaspoons hot water
Directions
Mix first 3 ingredients in medium saucepan. Add raisins, salt, cinnamon and cloves. Bring to a boil and boil for 5 minutes. Remove from stove and cool completely.
Add flour and soda, mix well. Pour into a greased tube pan, bake for one hour at 350 degrees F.