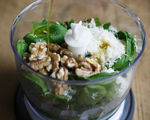 Prep: 10 min
Cook Time: –
Total: 10 min
Serving: 4 Servings
Using walnuts in this pesto instead of the traditional Italian version with pine nuts, adds a slightly less buttery yet richer and deeper flavor. For added depth, lightly toast the walnuts until fragrant before using.
Ingredients
1/3 cup plus 2 tablespoons walnuts
2 cup fresh basil
1 clove garlic
1/3 cup plus 1 tablespoon extra-virgin olive oil
pinch of crushed red pepper
1/3 cup grated pecorino cheese
Sea salt and freshly ground pepper
Directions
Turn on a food processor and drop the garlic down the processor flute to chop.
Add the walnuts, basil, olive oil, crushed red pepper, cheese and a few pinches of salt and pepper. Process the mixture until smooth making sure to scrape down the sides as needed.