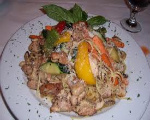 Prep: 20 min
Cook Time: 35 min
Total: 55 min
Serving: 6-8 servings
A flavor-packed cheesy ham and walnut pasta dish.
Ingredients
2 teaspoons minced garlic
1/2 cup coarsely chopped walnuts
1 red bell pepper, thinly sliced
1/4 cup olive oil
1/2 pound cooked ham, cut in strips
1 (16 ounce) jar creamy alfredo sauce
1/4 cup grated parmesan cheese
1 (12 ounce) package linguine, cooked al dente
1 cup seasoned breadcrumbs
Directions
Preheat the oven to 350 degrees Fahrenheit. Grease a 3-quart baking dish.
Add the oil, garlic, walnuts and bell pepper to a large skillet and saute for 1-2 minutes.
Combine the sauteed mixtures with the ham, alfredo sauce, cheese and linguine in a bowl. Mix well before pouring into the prepared dish. Sprinkle the breadcrumbs over.
Bake for 35 minutes or until the crumbs are lightly browned.