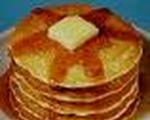 Prep: 15 min
Cook Time: 25 min
Total: 40 min
Serving: 14
Walnut Dessert Pancakes are an elegant treat after a hearty meal.
Ingredients
2 cups packaged biscuit mix
1 egg
1 3/4 cups milk
1 cup walnuts, coasely chopped
butter
2 pints vanilla ice cream
1, 11 ounce jar caramel topping
Directions
In large bowl, combine biscuit mix, egg and milk; beat with electric mixer until smooth; stir in walnuts.
Generously brush a hot 7 inch skillet with butter. With a 1/4 cup measuring cup as scoop, pour 1/4 cup batter into hot skillet; tilt skillet to spread batter over bottom of it. Cook pancake over medium heat until top is covered with bubbles, and edges look cooked. Turn it with a spatula; cook on underside until golden. Repeat with rest of batter, making about 14 pancakes.
Place a pancake on a dessert plate; top with vanilla ice cream and caramel sauce.