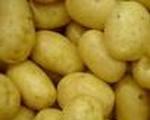 Prep: 20 min
Cook Time: 1 hr 40 min
Total: 2 hr
Serving: 8
Wake Up Casserole will rouse your sleepy heads out of bed!
Ingredients
3 large Yukon Gold potatoes, sliced thin
1 1/2 cups ham, sliced thin
2 cups Cheddar cheese, shredded
1 egg
8 egg whites
1 cup milk
1/2 teaspoon dried thyme
2 green onions, chopped
1/4 teaspoon salt
1/2 teaspoon coarsely ground black pepper
1/2 teaspoom dry mustard
Directions
Preheat oven to 325 degrees F. Spray a 9 by 13 inch nonstick baking pan with cooking spray.
Arrange one third of the sliced potatoes over bottom of pan. Layer 1/2 cup ham over potatoes and sprinkle 1/2 cup cheese over ham. Repeat layers twice.
Whisk egg and egg whites in a medium bowl until well blended. Stir in milk, thyme, green onions, salt, pepper and mustard; mix well. Pour evenly over ham and cheese.
Cover with foil and bake 1 hour and 40 minutes. Remove foil; sprinkle with remaining 1/2 cup cheese. Bake 5 minutes longer, or until edges are golden and a knife inserted near the center comes out clean.